Government Advocacy

National and State Update:
Please visit the American Academy of Ophthalmology website www.aao.org
Click Here: 2019 Testimony Sign-up Sheet
Click Here: March 1, 2019 Doctors Day at the Capitol Registration
Click Here: 2019 Legislative Priorities Brochure

Connecticut News 2013:
Click Here for 2014 Legislative Priorities
Click Here for 2014 Advocacy Posters
Click Here for MD Postcard for Legislators
Click Here for 2014 Legislative Summary
Find your Legislator
Click Here for CT Representatives
Click Here to find your Legislator's Room Number and Address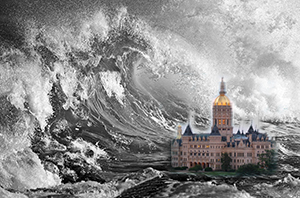 2014/15 Current Connecticut Law
Ophthalmology exemption to allow assistants to put drops in eyes
Sec. 20-14l. Delegation of ophthalmological services. A physician licensed pursuant to this chapter, who specializes in ophthalmology, may delegate to an appropriately trained medical assistant the use or application of any ocular agent, provided such delegated service is performed only under the supervision, control and responsibility of the licensed physician. For purposes of this section, "appropriately trained medical assistant" means a medical assistant who has completed on-the-job training in the use and application of ocular agents under the supervision, control and responsibility of an employing, licensed physician, an affidavit in support of which shall be kept by the employing physician on the premises.
Click Here for 2009 Public Act 09-136 AAC PRESCRIPTION EYE DROP REFILLS
Click Here for Program Review Public Act 11-209 AN ACT CONCERNING THE DEPARTMENT OF PUBLIC HEALTH'S OVERSIGHT RESPONSIBILITIES RELATING TO SCOPE OF PRACTICE DETERMINATIONS FOR HEALTH CARE PROFESSIONS.

Click Here for Public Act No. 14-168 AN ACT CONCERNING NOTICE OF ACQUISITIONS, JOINT VENTURES, AFFILIATIONS OF GROUP MEDICAL PRACTICES AND HOSPITAL ADMISSIONS, MEDICAL FOUNDATIONS AND CERTIFICATES OF NEED.PA 14-168
Click Here for Public Act No. 14-12 APRN Independent Practice AN ACT CONCERNING THE GOVERNOR'S RECOMMENDATIONS TO IMPROVE ACCESS TO HEALTH CARE.
Other News:
Click Here for CT Major Issues